by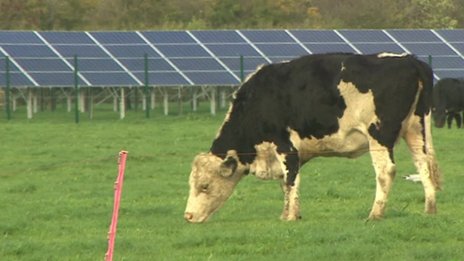 A community-owned solar power plant in Somerset has been officially switched on.
The 4,000 panels, which can generate up to 1MW – enough to power about 300 homes – have been installed on farmland close to the village of Wedmore.
More than 120 investors from the area bought shares in the scheme.
Rob Richley, director of Wedmore Power Co-operative, said he had been delighted with the level of support from the community.
'Interest paid'
The £1.1m project to develop two micro-generation sites has taken less than a year to come to fruition.
Electricity generated from the panels, and the associated equipment, is connected to nearby power lines and the co-op sells the power to an electricity supply company. It also receives the government's feed-in tariff.
The cash from these two sources will be used to pay interest to its members and repay their initial investment over the project's 27-year life.
It is hoped the panels will save 450 tonnes of carbon dioxide per year from the burning of fossil fuels to generate the same amount of power.
In 1908, the village became one of the first in Somerset to enjoy the benefits of electricity.
The Wedmore Electric Light and Power Company had been set up by local man William Burrough and villagers were generating their own electricity 16 years before the nearby city of Wells.
Article Source: http://www.bbc.co.uk/news/uk-england-somerset-24794283