by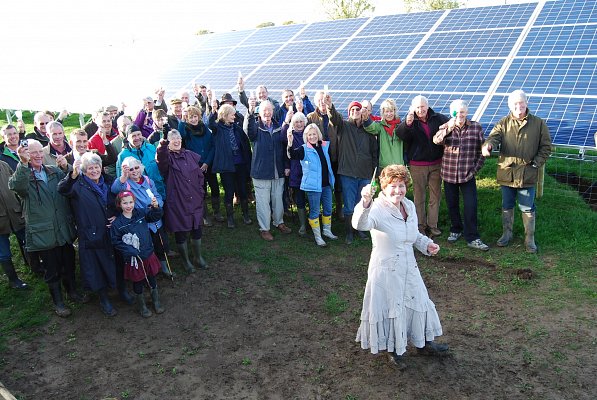 Image Caption Vanessa Becker Hughes, a director of Wedmore Community Power Co-operative, cut a ribbon to open the new solar power plant, watched by investors with light bulbs symbolising the 55,000 bulbs that the plant can light all at once
Investors in a £1.1 million community solar plant in Somerset celebrated its official opening with a glass of sparkling local cider on Saturday (2 Nov).
Many of the 150 people who have ploughed funds into Wedmore Community Power Co-operative joined in celebrations marking completion of the one-megawatt plant.
Their investment has enabled almost 4,000 solar panels to be installed in two new paddocks just outside the village in only six weeks. The electricity generated is enough to power 55,000 light bulbs or more than 1,100 microwaves.
The majority of shareholders are from the surrounding area, attracted by a lower investment threshold of £250 for local residents and a desire to reduce their community's carbon footprint.
It's not the first time Wedmore has pioneered new sources of energy: it had its own gasworks in 1870 and an electric power company in 1908, long before some local towns.
The solar power plant off Quab Lane is generating the same amount of electricity as 300 typical domestic solar arrays and feeding it into the local grid.
Every year it will save around 450 tonnes of carbon dioxide that would otherwise be produced through burning fossil fuels. Sheep will graze the grass below the solar panels and new hedges of native species to be planted in the coming weeks will help screen the site.
Some of the co-operative's profits will be ploughed back into the community in the form of grants for local organisations and charities.
More than £810,000 has been invested in the co-operative so far, with £140,000 worth of shares still available and seven-year bonds also on offer. A bridging loan has enabled the Co-operative to complete the solar plant ahead of schedule.
Incentives for investors include a projected interest rate starting at 5% and averaging 9.5% over the 27-year life of the project and 30% tax relief available under the Government's Enterprise Investment Scheme.
Many local people found temporary work installing the solar panels and other equipment. Anybody who has worked on the site is entitled to buy £250 shares in the co-operative – the minimum investment reserved for residents on the Isle of Wedmore, as the area is known.
One of the people behind the project, co-operative secretary Robin Mewes, said: "We are delighted to have opened our solar energy plant, enabling our community to reduce its carbon emissions and take control of its energy production, thus becoming more resilient."
He added. "Even in November, the system is powerful enough to run 55,000 light bulbs or more than 1,100 microwaves all at once."
To find out more visit www.wedmorecpc.co.uk or follow the project on Facebook and on Twitter at @WedmoreCPC.