by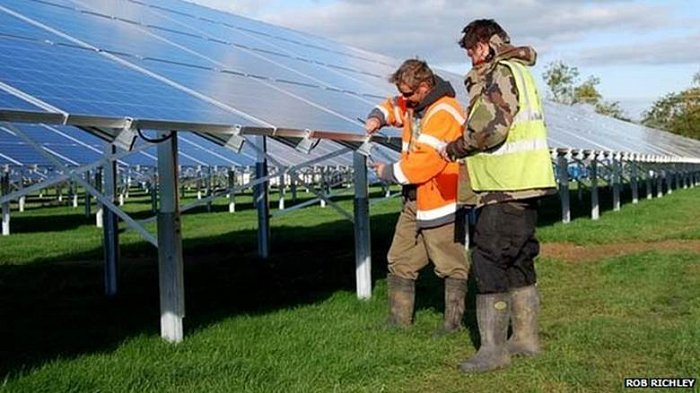 Installation work to fill two paddocks in a Somerset village with "community-owned" solar panels is almost complete.
The £1.1m project to develop two micro-generation sites on farmland in Wedmore has taken less than a year to come to life.
Wedmore Community Power Co-operative said the 4,000 panels should be feeding power into the grid within a month.
In 1908, the village became one of the first in Somerset to enjoy the benefits of electricity.
The Wedmore Electric Light and Power Company had been set up by local man William Burrough and villagers were generating their own electricity 16 years before the city of Wells nearby.
Over a century later, and the Wedmore Community Power Co-operative has sold shares in the solar site to 125 members through an offer to raise £950,000.
The money was needed to make the project a reality. However, more than £300,000 is still to be raised.
The co-operative says the one-megawatt plant, which is situated off Quab Lane, will generate the same amount of electricity as 300 typical domestic solar arrays.
That electricity will be fed into the National Grid.
Work to install the panels was expected to be completed earlier but bad weather has delayed proceedings and installation should now be complete by Monday.
Source: http://www.bbc.co.uk/news/uk-england-somerset-24575270